How many times have you received an invoice or bill that looks all mixed up with bad layout and information scattered all around? Well we've received them quite too often.
Actually, some of the bills we get are so unclear that we LITERALLY have to beat our brains out in order to understand what they're charging us for.
But your business doesn't have to be like that... this free invoice template is here to help you out.
Plenty of white spaces
Well proportioned columns
Amazing typography
The eye is immediately drawn to the bottom right corner where the total is shown. Every other section is carefully organized so the payer won't miss any detail. Refined corporate colors enrich its appearance and send message of a serious, creative company.
But what's even more awesome is that, this invoice is made completely with HTML5, CSS3 and Javascript, and is incredibly easy to use (you can finally say GOODBYE to the clunky Word!).
Grab this free invoice template now.
Preview of this corporate invoice template by Invoicebus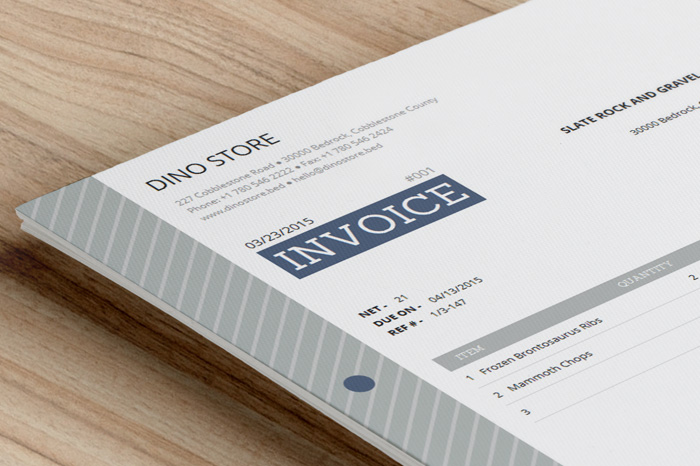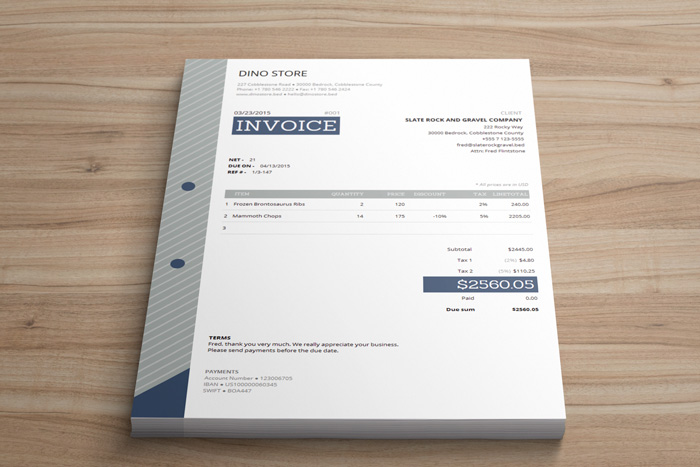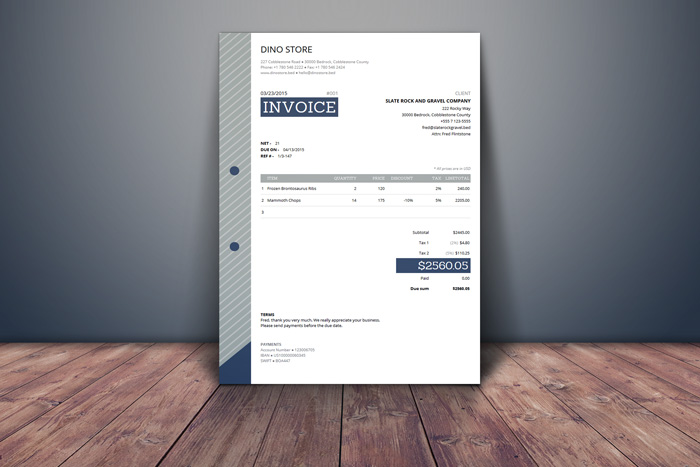 Just imagine how it would feel if you don't have to worry anymore about:
Calculations mistakes
Manual setup of dates and terms
Broken layout / messed up margins
Features of this free invoice template:
Ready to fill out and print immediately
Supports any language and currency
Supports multiple taxes
Auto calculation of subtotals, totals, taxes, and discounts
Easily customizable with your own logo and colors
Configurable columns, date format, and symbol position (left/right)
Manipulation of rows with simple drag and drop action
Made with HTML5, CSS3, and JS (say goodbye to Word and Excel)
Runs directly in any browser on your local computer (PC, Mac, Linux)
No setup required. Just click and go
Lifetime support and updates
 CAUTION:  Once you try this, you'll never want to return to Word and Excel again!
Original price of this template is $7, but as today is the freebie day, you get this awesome corporate invoice template absolutely free.
What's included:
HTML, CSS, JS, and Image files
1 Adobe Illustrator file
1 EPS vector file
Integrated help
License file
Support:
If you have any questions or concerns, please check out the support forum. If you can't find your answer just open a new topic and we'll get back to you very soon.
Deal Terms:
Files are delivered as an instant download.
May be used for personal or business needs.
Reselling, sharing, redistributing and giving away is NOT permitted.
The fonts used are Open Sans and Sanchez which are part of Google Fonts and are licensed under open source licenses.
They are loaded directly from the Google repository, so you don't need to download them separately.
Ready to grab this free invoice template?